Thread Rating:
MTB Leadership Level 2
Good stuff mate, should get you to sleep most nights
Jay Dubster.
Moved to Radstock (nr Bath) but often in Medway & up for a pootle.

2015 Whyte T130 Yari
2009 Trek 8000
2014 Boardman Team Carbon (yawn) 
Sounds great, a lot of investment in this clearly!
Tomorrow's the big day! All packed, Child protection cert completed log book filled out with 30 of the required 15 rides logged. Bike cleaned & in the car ready... road trip here I come!!

And the weather forecast is ... typically Welsh!

Wish me luck 8-)
Good luck! Sounds like you're very well prepared!
Welsh Wales has certainly had plenty of the wet stuff lately, so guessing it was worse than the Bedgers Korma?

Hope you did well, passed & enjoyed it Jon.
Jay Dubster.
Moved to Radstock (nr Bath) but often in Medway & up for a pootle.

2015 Whyte T130 Yari
2009 Trek 8000
2014 Boardman Team Carbon (yawn) 
It most definitely was wet!
All in all a great course! I really enjoyed it, picked up a lot of tips that I'll take away with me for when I'm taking cadets out and met some great people.
I need to go back for assessment and am hoping to book that for 7weeks time.
Had a 1-1 with one of the instructors at the end of the course and he was more than happy & confident that I'll pass...
Not being blasé about it though, I definitely need to work on my navigation to be able to lead a ride with flow and so will be working on my map reading skills between now & assessment day.
Need to buy a few things that my leaders backpack was missing too... Mostly Bothy (emergency shelter) a waterproof notepad & spare mech hangar for my own bike (discovered that the 'universal' one that I bought is only universal for 9mm QR not 12mm thru axel)
GPS use is encouraged but you still need to prove you can read & follow an ordnance survey map & create & follow a route card.
Also need to keep on peddling... I was put with the stronger ½ of the group for the ride on Sunday but I definitely felt like the slight weak link...
I was old enough to have been everyone in our groups father so I found keeping up with them on the 300m climb a bit of a challenge. We had a guy who races enduro & has riden up & down Snowdon multiple times, another who's raced DH & enduro, a lady who races CX & XC as well as takes annual trips to Whistler and another lady who was predominately a roadie who destroyed me on climbs, but thankfully -for me- was less confident on the technical bits.
Following the ride with a 6½hr drive home was not great! My legs hurt now more than they did after L2B off road!
If you're looking at leading groups of inexperienced riders or children on an MTB ride then this is the way to go. Once you've passed you are qualified, insured & backed by British Cycling to do it.
The team at Plas Y Brenin were great, the accommodation & facilities were better than I expected, the food was good, the Guinness was great and the instructors delivered the course really well.
The weather -on the other hand- was foul! Good test for my RaceFace jacket & Tenn Outdoors trousers though (they both passed)
Looking forward to better weather in April for the assessment.
Pics stolen from one of the ladies on the course: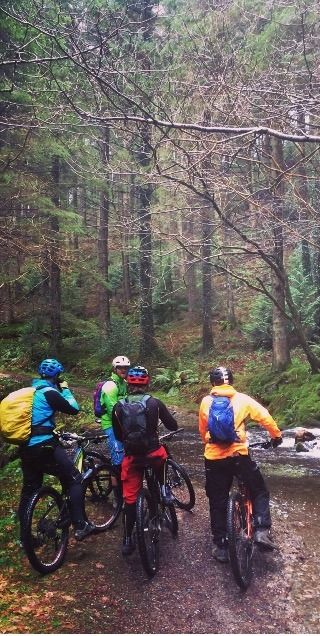 Thanks for the write up. Good to see the company and venue you book at were great, as I've just realised its the same one My wife and I are doing a scrambling course with in July.
Do you think you'll use it for just the cadets or Have you any more plans for more courses/ direction with it?
For now I've only really got enough free time to commit to cadets, I feel it's only right that as they have paid & put a lot of faith in me that the qualification should be prioritised for their use, I'm running courses every month between March & October at their Adventure training camp and if we can raise the money for bikes & kit (The Sea Cadet Corps is a charity unlike the ACF, ATC & CCF who are solely funded my the military) I'd like to also run courses & ride outs from my local unit.

But you never know what future opportunities hold, if I ever have any more free time I can use it elsewhere too although I wouldn't even know where to start with that.

The tickets lasts for life (although may in the future be subject to cpd training) and is a nationally recognised qual so time will tell I guess.
Users browsing this thread: 1 Guest(s)